Thermomix
The Future of Cooking
The smallest, smartest kitchen in the world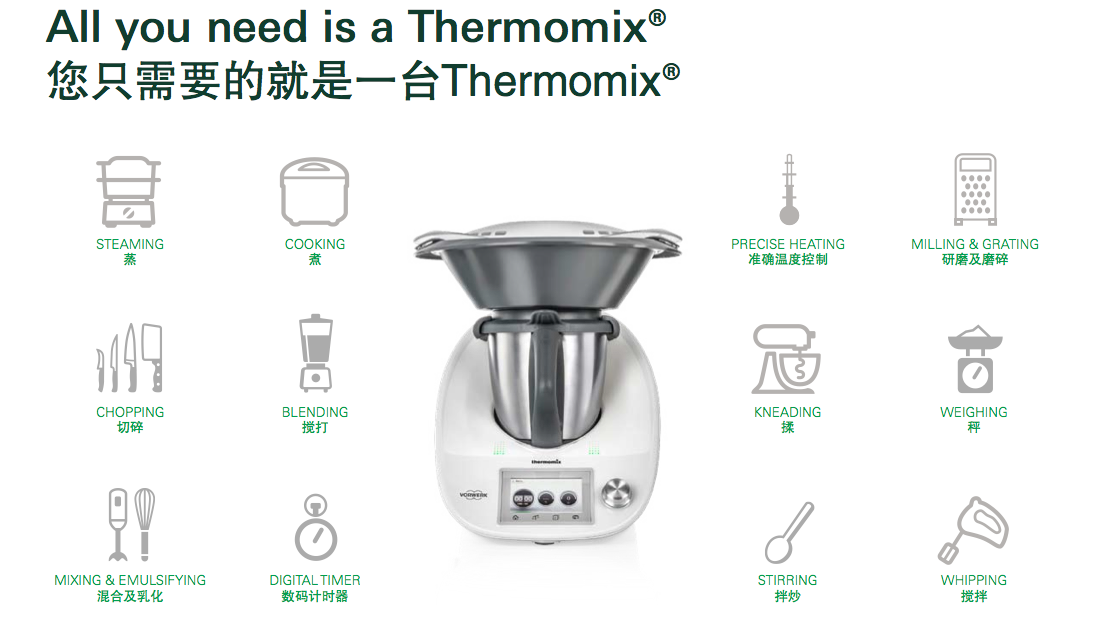 All you need is just one Thermomix
BE IT STEAMING, COOKING, PRECISE HEATINg, milling & grating, chopping, blending, kneading, weighing, mixing & emulsifying, digital timer, stirring or whipping, thermomix does it all.
Thermomix replaces 12 appliances in your kitchen which saves you space and money.
As featured around the world
The smallest kitchen in the world used by michelin star chefs and millions of families around the world
No more messy kitchen and washing up after cooking
If you love to cook but hate the washing. With thermomix, you just have to wash one jug and it can even clean by itself
STEP BY
STEP
COOKING
WITH
RECIPE
COOK CHIPS
AND
COOKBOOKS
With Thermomix, as long as you can read and tap buttons, you can now cook any chef level cuisines easily anytime.
Try the simplified steps to cook authentic Malay dishes such as Chicken Rendang, Nasi Kampung, Assam Pedas, Ascar, Malay traditional kuihs and more! 60 Recipes of intricate Malay flavours made simple.
Thermomix THE BASIC COOK BOOK Cook Chip. All your favourite Thermomix cookbooks are now available in cook chips. Simply insert it into ur Thermomix and you are good to cook!
Everything you need to create 13 gorgeous themed menus for your guests, including planning and styling suggestions to make hosting achievable and fun
In the Mix: Great Thermomix Recipes is the highly acclaimed cookbook by food journalist and Thermomix enthusiast Dani Valent. Dani's key message is that we can all cook like great chefs if we have a Thermomix in our kitchen.
COMPLEX AND TIME CONSUMING CHEF LEVEL DISHES MADE EASY
Thermomix is an all-in-one cooking machine that even chefs cant live without. Here are some chef dishes made by Thermomix.
PRECISION HEATING FOR ANY SET TEMPERATURE THROUGHOUT
Thermomix can heat food to precise temperature between 37°C and 120 °C. Unlike cooking on a stove, there's no guesswork involved, which makes it far easier to prepare more delicate recipes such as custards, sous vide, bread, baby food or when tempering chocolate.
HEALTHY FOOD FOR FAMILY
Nothing comes before the health and well-being of your loved ones. Let Thermomix take care of their meals! With Thermomix, you can prepare wholesome meals for the family from Monday to Sunday
HEALTHY FOOD FOR YOUR BABY AND TODDLER
Worried the food you are feeding your little ones are unsuitable for them? Fret no more! Thermomix is the best helper in the kitchen to cater to your little one's needs.
If you seek to eat healthy home-cooked meals, love to cook but don't have the time, hate the washing and cleaning up or if you know nuts about cooking, the Thermomix is the best invention in the kitchen you can dream of to make cooking healthy and delicious food so easy, fast and without the cleaning and kitchen mess. Besides it combines 12 kitchen appliances into 1, saving you lots of space and cost too.
We are an Authorised Thermomix Cooking Advisor Partner, come join us for our next cooking session (Singapore only) and
EXPERIENCE A THERMOMIX COOKING AND TASTING SHOW YOURSELF